Mushroom Daily Planner Desktop Notepad! 🌱🧚🏼
Regular price
Sale price
$20.00 USD
Unit price
per
Sale
Sold out
Are you a mushroom lover looking for something neutral and pretty to plan your days in? This is the perfect daily planner notepad for you! 
This notepad features:
-Hand lettered design
-A space for gratitude
-An hourly layout
-Bubbles for self care, top priorities of the day, housework, & remember for tomorrow
-A notes section
-Each pad is 100 pages
-Cardboard backing 
✦SHIPPING NOTICE: Because this notepad weighs over one pound - it has to ship priority mail which is reflected in the shipping cost. Comes plastic wrapped so it is extra safe when shipping to you!✦
NO REFUNDS/EXCHANGES! Please email us at frankiisart@gmail.com if you have any questions or concerns with your order.
Thank you so much for supporting my business and making this notepad a part of your day! Happy planning!
Share
Materials

All of my original work is created using high quality archival material. I want my work to out live me - so I create it as such.
Shipping

Please note that some items may arrive in separate packages due to fulfillment location and or item measurement. Art By Frankii has multiple fulfillment locations. If you have received some of the items you have ordered and not others, please know that these items are not lost or forgotten and have been sent out separately. All orders processed will be shipped out. Please expect 3-5 business days for your order to be packed and shipped.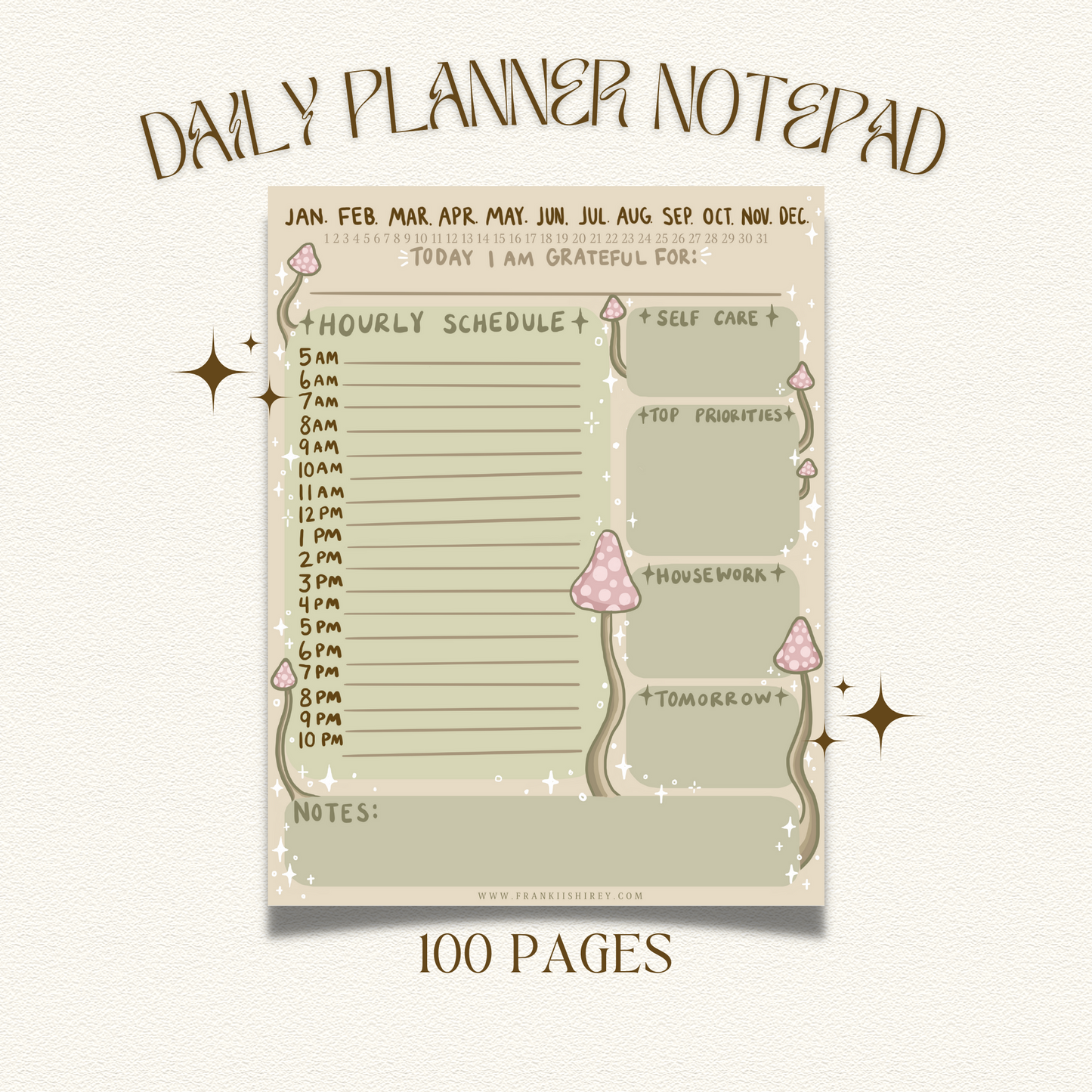 ✦Currently Not Accepting Comissions✦
At this current point in time, I am not accepting commissioned work requests. I will open my commissions back up in the near future but as of the current moment I am working to expand my body of work and discover my style on a deeper level.
"Hey Frankii, what type of ____ are you using?"
Since a lot of my audience are artists as well, I very frequently get asked about what supplies I use to create my work. Here are some answers to some of the most common ones.
What Type Of Paint Do You Use?

For the majority of my work I am painting in acrylic. The only brand of acrylic that I use currently is Golden Paints heavy body acrylic.

What Type Of Brushes Do You Use?

I use all sorts of brushes from very cheap Walmart brushes all the way up to some higher end ones I have treated myself to. I personally do not believe your brushes make that big of a difference in your work, it's how you use them.

What Type Of Easel Do You Have?

Every time I post a piece on my easel I seem to be getting asked this question... which is a lot! It is a Mabef M-06 Studio Easel but I think any H-Frame easel will do the job just fine.
Hey You! Don't Forget To Take Time To Be Creative Today
This is your sign to go do something creative. Studies have shown that creative people are happier, healthier, and more compassionate than their non-creative counterparts. Doing something creative every day can quite literally change your life, so don't forget to make time for it!
✦ Check Out My YouTube! ✦